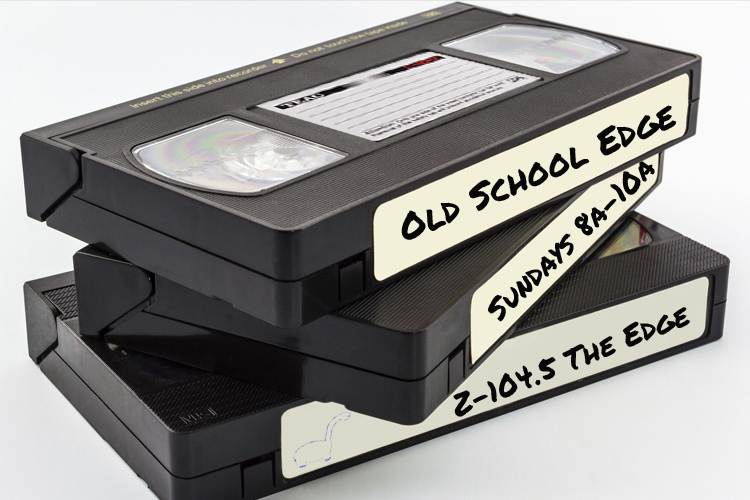 Tune into Old School Edge with Chuck & Josh every Sunday morning from 8a-10a. Enjoy 2 hours of nothing but all your Old School Favorites!
OLD SCHOOL EDGE SONGS 7/25/21
BROUGHT TO YOU BY THE WOODY GUTHRIE CENTER
MEAT PUPPETS- BACKWATER
GREEN DAY- 2000 LIGHT YEARS AWAY
U2- WITH OR WITHOUT YOU
WHITE ZOMBIE- THUNDERKISS '65
WEEZER- YOU GAVE YOUR LOVE TO ME SOFTLY
COUNTING CROWS- A LONG DECEMBER
THE MIGHTY MIGHTY BOSSTONES- THE IMPESSION THAT I GET
SEX PISTOLS- PRETTY VACANT
DAYS OF THE NEW- TOUCH, PEEL AND STAND
HELMET- UNSUNG
THE FLAMING LIPS- SHE DON'T USE JELLY
GIN BLOSSOMS- HEY JEALOUSY
PRIMUS- WYNONA'S BIG BROWN BEAVER
CRACKER- LOW
CROWDED HOUSE- DON'T DREAM IT'S OVER
ECHO & THE BUNNYMEN- THE KILLING MOON
311- ALL MIXED UP
STONE TEMPLE PILOTS- CRACKERMAN
GARBAGE- STUPID GIRL
DAVE MATTHEWS BAND- ANTS MARCHING
THE OCEAN BLUE- BALLERINA OUT OF CONTROL
ERASURE- OH L'AMOUR
INXS- BEAUTIFUL GIRL
FRANK BLACK- LOS ANGELES
BECK- DEVIL'S HAIRCUT
OLD SCHOOL EDGE SONGS 7/18/21
BROUGHT TO YOU BY THE WOODY GUTHRIE CENTER
XTC- MAYOR OF SIMPLETON
YEAH YEAH YEAHS- OUR TIME
THE PLIMSOULS- A MILLION MILES AWAY
THE RENTALS- FRIENDS OF P.
CORNERSHOP- BRIMFUL OF ASHA
THE SMITHS- HOW SOON IS NOW
FOLK IMPLOSION- NATURAL ONE
DURAN DURAN- A VIEW TO A KILL
SUBLIME- BADFISH
GREEN DAY- 2000 LIGHT YEARS AWAY
VERUCA SALT- VOLCANO GIRLS
FOO FIGHTERS- MY HERO
BODEANS- CLOSE TO FREE
PLACEBO- PURE MORNING
PUBLIC IMAGE LTD.- THIS IS NOT A LOVE SONG
PJ HARVEY- DOWN BY THE WATER
PIXIES- MONKEY GONE TO HEAVEN
JANE'S ADDICTION- JANE SAYS ()LIVE)
PRETENDERS- BRASS IN POCKET
PEARL JAM- HAIL, HAIL
HOUSE OF PAIN- JUMP AROUND
ERASURE- LOVE TO HATE YOU
LIZ PHAIR- NEVER SAID
TORI AMOS- GOD
LOVE AND ROCKETS- SO ALIVE
OLD SCHOOL EDGE SONGS 7/12/21
BROUGHT TO YOU BY THE WOODY GUTHRIE CENTER
PETER MURPHY- CUTS YOU UP
THE WHITE STRIPES- FELL IN LOVE WITH A GIRL
LIVE- LAKINI'S JUICE
R.E.M.- RADIO FREE EUROPE
BETTER THAN EZRA- DESPERATELY WANTING
PAVEMENT- SUMMER BABE
SUZANNE VEGA- LEFT OF CENTER (WITH JOE JACKSON)
FOR SQUIRRELS- MIGHTY K.C.
BUSH- MOUTH
THE B-52'S- ROCK LOBSTER
HOLE- VIOLET
BLIND MELON- GALAXIE
NEW ORDER- TRUE FAITH
BECK- THE NEW POLLUTION
TOAD THE WET SPROCKET- FALL DOWN
YAZ- DON'T GO
CAKE- SHEEP GO TO HEAVEN
BEASTIE BOYS- CH-CHECK IT OUT
BJÖRK- HUMAN BEHAVIOR
LIMP BIZKIT- NOOKIE
PEARL JAM- DISSIDENT
ECHO & THE BUNNYMEN- LIPS LIKE SUGAR
THE TUBES- SHE'S A BEAUTY
FUN LOVIN' CRIMINALS- SCOOBY SNACKS
OLD SCHOOL EDGE SONGS 7/4/21
BROUGHT TO YOU BY THE WOODY GUTHRIE CENTER
DEPECHE MODE- PEOPLE ARE PEOPLE
PAUL WESTERBERG- DYSLEXIC HEART
GARBAGE- PUSH IT
BECK- GIRL
SPIN DOCTORS- LITTLE MISS CAN'T BE WRONG
THE CHEMICAL BROTHERS- SETTING SUN
PETER GABRIEL- IN YOUR EYES
BLOODHOUND GANG- FIRE WATER BURN
RAGE AGAINST THE MACHINE- KILLING IN THE NAME
BLONDIE- HANGING ON THE TELEPHONE
THE CRANBERRIES- ODE TO MY FAMILY
NICK LOWE- CRUEL TO BE KIND
CONCRETE BLONDE- JOEY
INSPIRAL; CARPETS- THIS IS HOW IT FEELS
OASIS- DON'T LOOK BACK IN ANGER
SEX PISTOLS- PRETTY VACANT
THE CRYSTAL METHOD- NAME OF THE GAME
DISHWALLA- COUNTING BLUE CARS
THE B-52'S- ROAM
UNDERWORLD- BORN SLIPPY (NUXX)
SHAWN MULLINS- LULLABY
R.E.M.- NIGHTSWIMMING
U2- PRIDE (IN THE NAME OF LOVE)
OLD SCHOOL EDGE SONGS 6/20/21
BROUGHT TO YOU BY THE WOODY GUTHRIE CENTER
THE FLYS- GOT YOU (WHERE I WANT YOU)
THE POLICE- KING OF PAIN
FASTBALL- THE WAY
THE SMITHS- THERE IS A LIGHT THAT NEVER GOES OUT
NATALIE MERCHANT- WONDER
DEPECHE MODE- PERSONAL JESUS
RADIOHEAD- FAKE PLASTIC TREES
JOY DIVISION- DISORDER
NIRVANA- SMELLS LIKE TEEN SPIRIT
SUGAR RAY- FLY
GOLDFINGER- HERE IN YOUR BEDROOM
BAUHAUS- ZIGGY STARDUST
COWBOY JUNKIES- SWEET JANE
SCREAMING TREES- NEARLY LOST YOU
BIG BAD VOODOO DADDY- YOU & ME & THE BOTTLE MAKES 3 TONIGHT (BABY)
OUR LADY PEACE- SUPERMAN'S DEAD
JESUS JONES- RIGHT HERE, RIGHT NOW
JOAN OSBORNE- ONE OF US
BIG AUDIO DYNAMITE 2- THE GLOBE
PET SHOP BOYS- IT'S A SIN
COLLECTIVE SOUL- DECEMBER
TALKING HEADS- THIS MUST BE THE PLACE (NAIVE MELODY)
PORNO FOR PYROS- PETS
OLD SCHOOL EDGE SONGS 6/13/21
BROUGHT TO YOU BY THE WOODY GUTHRIE CENTER
VIOLENT FEMMES- ADD IT UP
SIOUXSIE AND THE BANSHEES- DEAR PRUDENCE
ALANIS MORISSETTE- YOU OGHTA KNOW
RAMONES- BLITZKRIEG BOP
PRETENDERS- 2000 MILES
FILTER- TAKE A PICTURE
GANG OF FOUR- DAMAGED GOODS
R.E.M.- CAN'T GET THERE FROM HERE
STABBING WESTWARD- SAVE YOURSELF
THEY MIGHT BE GIANTS- THE STATUE GOT ME HIGH
TODD SNIDER- TALKIN SEATTLE GRUNGE ROCK BLUES
THE GOO GOO DOLLS- SLIDE
BEN FOLDS FIVE- BRICK
STEREO MC'S- CONNECTED
THE BREEDERS- CANNONBALL
PAVEMENT- SUMMER BABE
SON VOLT- DROWN
JANE'S ADDICTION- MOUNTAIN SONG
TALKING HEADS- AND SHE WAS
WEEZER- EL SCORCHO
HUM- STARS
THE CLASH- ROCK THE CASBAH
FOO FIGHTERS- BIG ME
BLUES TRAVELER- RUN-AROUND
INXS- DEVIL INSIDE
OLD SCHOOL EDGE SONGS 6/6/21
BROUGHT TO YOU BY THE WOODY GUTHRIE CENTER
BRYAN FERRY- SLAVE TO LOVE
THE PRODIGY- BREATHE
MOBY- SOUTH SIDE
DAVE MATTHEWS BAND- WHAT WOULD YOU SAY (LIVE)
BLUR- SONG 2
LEN- STEAL MY SUNSHINE
TALKING HEADS- BURNING DOWN THE HOUSE
KORN- SHOOTS & LADDERS
THE SMITHEREENS- BLOOD AND ROSES
THE CURE- IN BETWEEN DAYS
REPUBLICA- READY TO GO
TEARS FOR FEARS- EVERYBODY WANTS TO RULE THE WORLD
ALICE IN CHAINS- ROOSTER (UNPLUGGED)
DEAD BOYS- SONIC REDUCER
PEARL JAM- STATE OF LOVE AND TRUST
DEPECHE MODE- ENJOY THE SILENCE
HOLE- DOLL PARTS
DADA- DIZZ KNEE LAND
U2- GLORIA (LIVE)
311- ALL MIXED UP
FASTBALL- THE WAY
PIXIES- HERE COMES YOUR MAN
SAVE FERRIS- COME ON EILEEN
OLD SCHOOL EDGE SONGS 5/30/21
BROUGHT TO YOU BY THE WOODY GUTHRIE CENTER
SIOUXSIE AND THE BANSHEES- THE PASSENGER
ELECTRONIC- GETTING AWAY WITH IT
GREEN DAY- WAITING
JEWEL- WHO WILL SAVE YOUR SOUL
THE JAM- DOWN AT THE TUBE STATION AT MIDNIGHT
RADIOHEAD- KARMA POLICE
PRIMITIVE RADIO GODS- STANDING OUTSIDE A BROKEN PHONE BOOTH WITH MONEY IN MY HAND
THE CURE- WHY CAN'T I BE YOU
LENNY KRAVITZ- LET LOVE RULE
WEEZER- PHOTOGRAPH
R.E.M.- RADIO FREE EUROPE
JANE'S ADDICTION- JANE SAYS
FOLK IMPLOSION- NATURAL ONE
JEFF BUCKLEY- HALLELUJAH
THE VERVE- THE DRUGS DON'T WORK
BERLIN- THE METRO
NIRVANA- RAPE ME
TRACY BONHAM- MOTHER MOTHER
CANDLEBOX- YOU
SUBLIME- BADFISH
VIOLENT FEMMES- AMERICAN MUSIC
REPUBLICA- READY TO GO
THE SMASHING PUMPKINS- SIVA
OLD SCHOOL EDGE SONGS 5/23/21
BROUGHT TO YOU BY THE WOODY GUTHRIE CENTER
NINE INCH NAILS- TERRIBLE LIE
GARY NUMAN- CARS
SOUNDGARDEN- THE DAY I TRIED TO LIVE
RED HOT CHILI PEPPERS- LOVE ROLLERCOASTER
JOY DIVISION- LOVE WILL TEAR US APART
STONE TEMPLE PILOTS- SOUR GIRL
THE CULT- SHE SELLS SANCTUARY
THE SMITHS- GIRLFRIEND IN A COMA
SIMPLE MINDS- DON'T YOU (FORGET ABOUT ME)
JAMES- LAID
NADA SURF- POPULAR
DEVO- WHIP IT
OLD 97'S- QUESTION
PETER GABRIEL- SLEDGEHAMMER
PLACEBO- EVERY YOU EVERY ME
INXS- WHAT YOU NEED
CYPRESS HILL- INSANE IN THE BRAIN
U2- HOLD ME, THRILL ME, KISS ME, KILL ME
EVE 6- INSIDE OUT (ACOUSTIC IN THE EDGE STUDIO)
THE POLICE- EVERY BREATH YOU TAKE
BELLY- FEED THE TREE
NICK CAVE & THE BAD SEEDS- INTO MY ARMS
MIDNIGHT OIL- BEDS ARE BURNING
TOADIES- I COME FROM THE WATER
R.E.M.- STAND
RAMONES- BEAT ON THE BRAT
OLD SCHOOL EDGE SONGS 5/16/21
BROUGHT TO YOU BY THE WOODY GUTHRIE CENTER
MOLLYS YES- SUGAR
COUNTING CROWS- RAIN KING
THE PRIMITIVES- CRASH
SEMISONIC- CLOSING TIME
BJÖRK- IT'S OH SO QUIET
GREEN DAY- GEEK STINK BREATH
BECK- WHERE IT'S AT
THE SUNDAYS- WILD HORSES
TALKING HEADS- AND SHE WAS
RED HOT CHILI PEPPERS- SUCK MY KISS
THE B-52'S- PLANET CLAIRE
BUSH- LETTING THE CABLES SLEEP
THE CURE- BOYS DON'T CRY
THE CRYSTAL METHOD- BUSY CHILD
THE SOUP DRAGONS- I'M FREE
SIMPLE MINDS- DON'T YOU (FORGET ABOUT ME)
THE SMASHING PUMPKINS- MAYONAISE
RAMONES- SHEENA IS A PUNK ROCKER
NIRVANA- LAKE OF FIRE
THE PRODIGY- FIRESTARTER
NO DOUBT- EX-GIRLFRIEND
THE SMITHS- HOW SOON IS NOW
R.E.M.- SO. CENTRAL RAIN
SEX PISTOLS- GOD SAVE THE QUEEN
BEASTIE BOYS- BRASS MONKEY
OLD SCHOOL EDGE SONGS 5/9/21
BROUGHT TO YOU BY THE WOODY GUTHRIE CENTER
SUZANNE VEGA- BLOOD MAKES NOISE
BARENAKED LADIES- ONE WEEK
NEW ORDER- TRUE FAITH
U2- MYSTERIOUS WAYS
DRIVIN N CRYIN- FLY ME COURAGEOUS
GARBAGE- WHEN I GROW UP
RADIOHEAD- FAKE PLASTIC TREES
THE WALLFLOWERS- ONE HEADLIGHT
DEPECHE MODE- POLICY OF TRUTH
LETTERS TO CLEO- HERE AND NOW
KINGMAKER- REALLY SCRAPE THE SKY
TOM TOM CLUB- GENIUS OF LOVE
DURAN DURAN- HUNGRY LIKE THE WOLF
THE CULT- SHE SELLS SANCTUARY
ECHO & THE BUNNYMEN- SEVEN SEAS
PEARL JAM- ANIMAL
CRACKER- LOW
BEASTIE BOYS- SURE SHOT
THE BREEDERS- CANNONBALL
THE VAPORS- TURNING JAPANESE
DEAD EYE DICK- NEW AGE GIRL
MODERN ENGLISH- I MELT WITH YOU
BLONDIE- HANGING ON THE TELEPHONE
LIVING COLOUR- OPEN LETTER (TO A LANDLORD)
THE CURE- MINT CAR
EVENESCENCE- BRING ME TO LIFE
OLD SCHOOL EDGE SONGS 5/2/21
BROUGHT TO YOU BY THE WOODY GUTHRIE CENTER
BLACK LAB- WASH IT AWAY
INFORMATION SOCIETY- WHAT'S ON YOUR MIND (PURE ENERGY)
SOFT CELL- TAINTED LOVE
THOMAS DOLBY- SHE BLINDED ME WITH SCIENCE
BILLY BRAGG- YOU WOKE UP MY NEIGHBORHOOD
RAMONES- I WANNA BE SEDATED
THE OFFSPRING- SELF ESTEEM
PETER GABRIEL- GAMES WITHOUT FRONTIERS
KATE BUSH- WUTHERING HEIGHTS
STONE TEMPLE PILOTS- VASOLINE
HOLE- MALIBU
SUPERGRASS- ALRIGHT
SONIC YOUTH- 100%
LUSCIOUS JACKSON- NAKED EYE
MOBY- SOUTH SIDE
POLICE- DON'T STAND SO CLOSE TO ME
RADIOHEAD- KARMA POLICE
MISSING PERSONS- WORDS
PORNO FOR PYROS- PETS
NEW ORDER- BIZARRE LOVE TRIANGLE
R.E.M.- THE GREAT BEYOND
DEAD MILKMEN- PUNK ROCK GIRL
PSYCHEDELIC FURS- PRETTY IN PINK
DESCENDENTS- I'M THE ONE
THE CRANBERRIES- ZOMBIE
THREE DOORS DOWN- KRYPTONITE
OLD SCHOOL EDGE SONGS 4/25/21
BROUGHT TO YOU BY THE WOODY GUTHRIE CENTER
SILVERCHAIR- TOMORROW
K'S CHOICE- NOT AN ADDICT
R.E.M.- LOSING MY RELIGION
THE FIXX- ONE THING LEADS TO ANOTHER
ZIGGY MARLEY & THE MELODY MAKERS- TOMORROW PEOPLE
ELASTICA- CONNECTION
SINÉAD O'CONNOR- NOTHING COMPARES 2 U
HUM- STARS
JESUS JONES- RIGHT HERE, RIGHT NOW
NINE INCH NAILS- HEAD LIKE A HOLE
THE THE- DOGS OF LUST
JOHNNY CASH- HURT
FATBOY SLIM- PRAISE YOU
THE VERVE- BITTERSWEET SYMPHONY
ECHO & THE BUNNYMEN- PEOPLE ARE STRANGE
ELVIS COSTELLO- PUMP IT UP
OASIS- WONDERWALL
MOBY- BODYROCK
PETER SCHILLING- MAJOR TOM (COMING HOME)
CONCRETE BLONDE- JOEY
PULP- COMMON PEOPLE
RAMONES- ROCK AND ROLL HIGH SCHOOL
CHRIS ISAAK- WICKED GAME
PAVEMENT- CUT YOUR HAIR