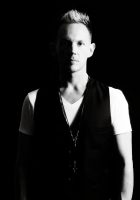 About me: I enjoy long, romantic walks in the park, origami, new vegan restaurants, and collecting 1950's commercial jingles.  Just kidding. I was born and raised in New Orleans, and very proud to be a Tulsa transplant. The NFL rules! WHO DAT?
What do I look to do? Rock drummer, singer, guitarist, and lover of all things MUSIC. Can't get enough!
Favorite artists include (but not limited to…) Chris Cornell, Soundgarden, MUSE, Vast, Foo Fighters and BridgeCity.